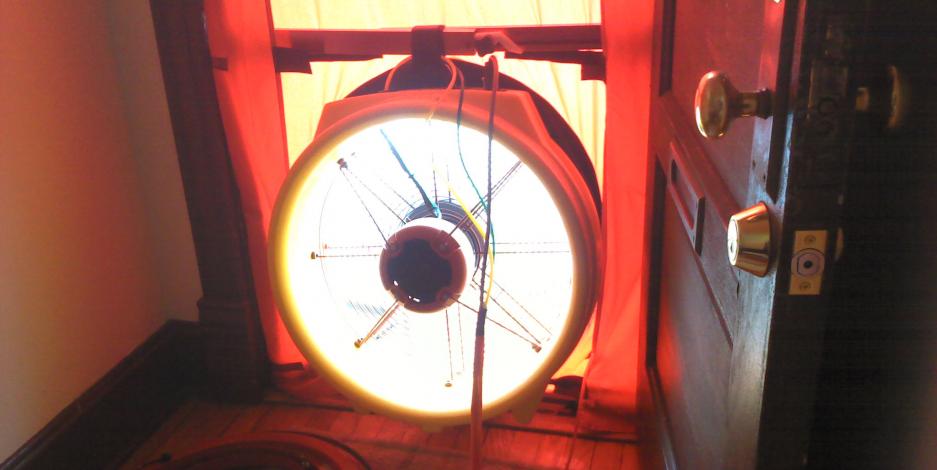 Homes located in Wisconsin see drastic weather, with hot summers and freezing, snowy winters. In order to ensure your home is performing to its full potential year-round, our team can conduct an energy audit to determine what could be improved.  You might also qualify for financial rewards through the Focus on Energy utility program.  

Accurate-Airtight Exteriors is proud to work with the Focus on Energy Home Performance with ENERGY STAR program in central Wisconsin to deliver whole-house energy savings to improve comfort and help protect the environment."  
What is a Home Energy Audit?
A home energy audit (also referred to an energy assessment) is an assessment of your entire home in relation to its energy usage. It is like a check up for the health and energy consumption of your home.  Results from an energy audit result in insights which can help you live a more comfortable, healthier and more environmentally-friendly lifestyle. Identifying areas of your home that consume the most energy, in addition to the spots that are wasting it, will provide you with recommendations for changes or potential retrofits to make your home more energy efficient and comfortable, giving you peace of mind and saving you money.
Components of a Home Energy Audit
During a home energy audit, our energy auditor will analyze and inspect various aspects of your home to determine how we can help save you money and energy year round.
Blower Door Test & Infrared Scan
We begin by assessing your home's building envelope. A home's building envelope should consist of a thermal boundary, which contains the insulation, and the pressure boundary, which is its air barrier.
If the building envelope is not intact, there is an extreme amount of energy waste. By performing a blower door test and an infrared scan (also called a thermal imaging analysis), we investigate to see how much air leakage or insufficient insulation exists within your home.
Combustion Safety & Mechanicals Inspection
Your home's HVAC systems and other appliances use huge amounts of energy. A-A Exteriors examines the functionality of your home's mechanical systems to check their efficiency. In addition, we test the indoor air quality to ensure your air isn't being invisibly poisoned by carbon monoxide.
Energy Model Report
Based on the results of the energy audit, A-A Exteriors creates an energy model report to help illustrate the savings and benefits of various modifications, updates and retrofits to your home. You'll have a clearer picture of just how services such as air sealing and insulation would influence your home's energy usage and costs. The energy model report gives you the knowledge you need to make smart decisions about making your home more comfortable and cost-effective in the long term.
The Benefits of an Energy Audit for Your Wisconsin Home
After your home receives an energy audit, you'll have data and recommendations on how to improve your home's energy usage. After implementing any suggestions, you should expect to see:
Increased home comfort with more consistent temperatures throughout your home

Reduced drafts

Improved indoor air quality and fewer indoor allergy symptoms

Reduced potential for mold and mildew growth

Decreased potential for ice dam formation during the winter

Lower energy bills
Accurate-Airtight Exteriors: The Energy Audit Experts
On the cutting edge of energy efficiency since 1998, with over 75 years of combined experience, Accurate-Airtight Exteriors has the knowledge you need to improve your home. We've conducted thousands of energy audits and energy efficient improvements; with A-A Exteriors, your home is in good hands. All of our services are designed to help you see a good return on your investment, so if you decide to make upgrades based on the results of your energy audit, you'll be well on your way to saving money and energy while living in a more comfortable, safe and healthy home.
If you would like to learn more about what parts of your home an Energy Audit covers, check out the Focus On Energy assessment page at home and then contact us to get your energy audit scheduled!
Contact us or call (866) 582-4320 for your free phone consultation and to schedule your home energy audit today!
Testimonials
Just a quick note about the air sealing that you did in our home. It has worked as you indicated that it would. We noticed an immediate improvement in our basement. We obviously had some problems in that area that one would not normally associate with a nine year old home. The temperature in the... Read more
Chuck Rafferty, Oshkosh, WI