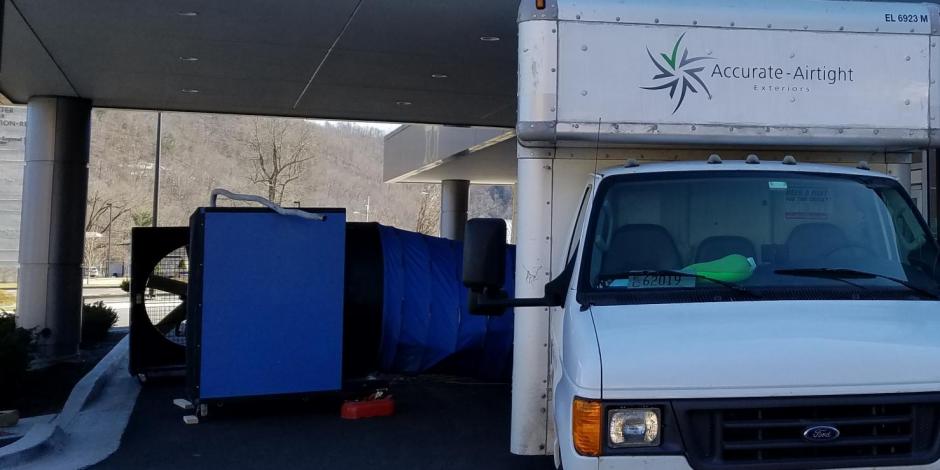 Accurate-Airtight Exteriors provides third party whole building enclosure air tightness testing and various air barrier testing services for commercial, industrial, and multi- family projects. A-AE owns some of the largest blower doors for commercial buildings in the nation. A-AE services the midwest, as well as east, west, and Gulf coast to serve our customers by completing functional whole building air barrier system testing.
Why Schedule a Blower Door Test? 
Air barrier testing provides an understanding of energy saving and building integrity opportunities while also meeting current more stringent building codes and standards.  Through commercial blower door testing we can provide detailed inspection reporting to convey whether a building will pass or fail owner requirements. Requirements are often developed by the Architect or Engineer of the project.  This type of commercial energy audit, which includes air barrier   testing and in conjunction with infrared thermography, allows A-AE to make valuable recommendations to improve the building envelope for lasting building integrity.
How a Commercial Blower Door Test Works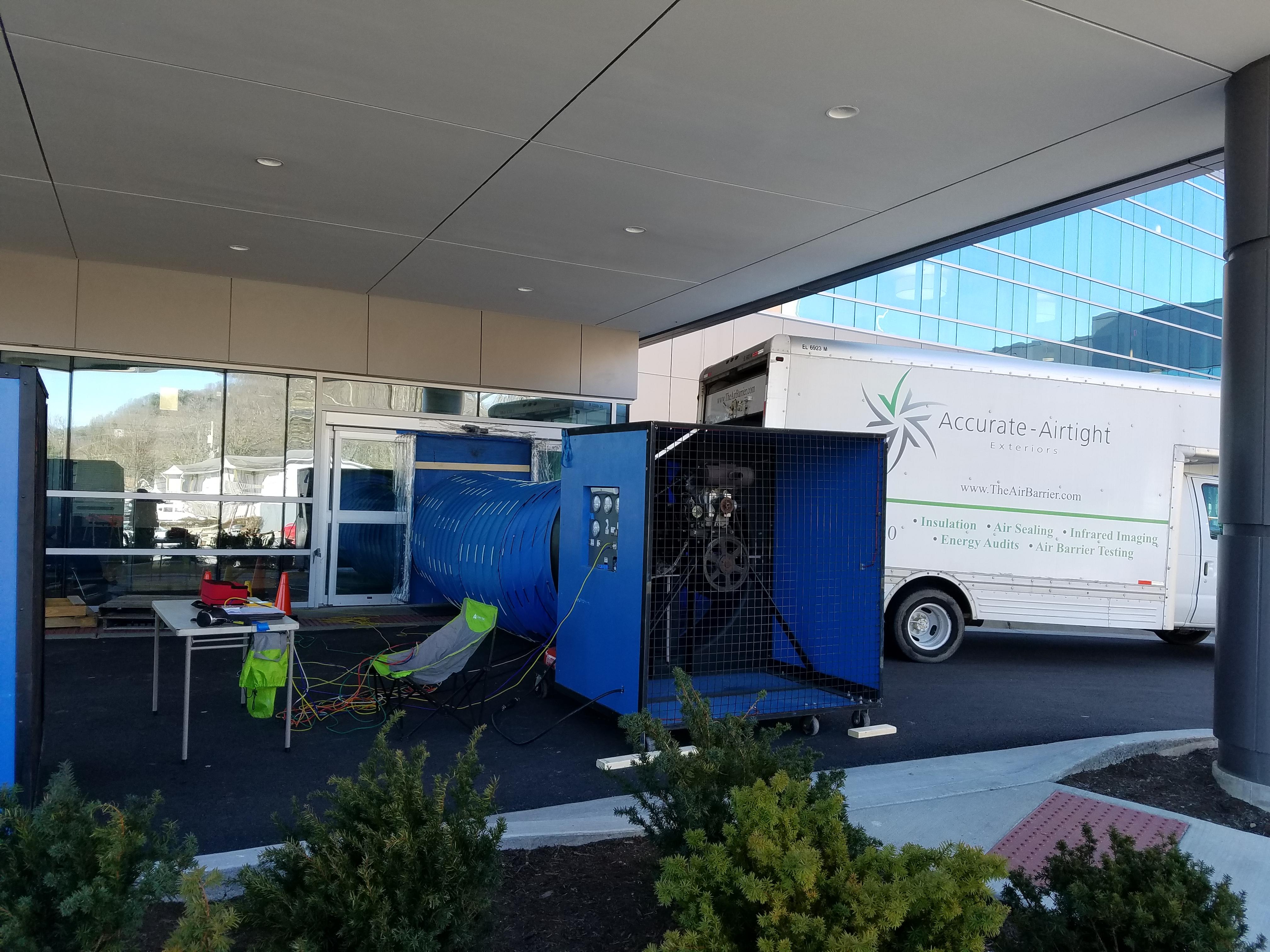 A blower door is used to pressurize and depressurize the building to predetermined pressure settings per the standard being tested to. Testing is completed to various test standards such as common multipoint testing ASTM E779 as well as  single or two point testing ASTM E1827.  
The gathered pressure points are averaged to determine the collective building hole size. This is calculated by the total cubic air leakage of the entire building.  This often is an average of a pressurization and a depressurization test.  An assessment can then be made of suitable air leakage improvements that could be completed to improve the building enclosure system.  Flaws in the system can then be corrected prior to closing assemblies up or covering with finishes will often have the largest impacts.  Staging of testing and final work should be strategic to ensure the ability to correct areas of the building in need of enclosure repair.
Preparing Your Commercial Building for a Blower Door Test
During a blower door test of an entire building or a specific conditioned area such as a clean room, the building is prepped for the pressure test that will measure total air leakage. Things such as closing exterior doors/windows, sealing HVAC fresh air supplies ducts, closing off dampers, or sealing off grilles with plastic and tapes may be required per a specific testing standard.
While the building is pressurized and depressurized, infrared imaging can be incorporated to meticulously gather and pinpoint exact locations of building enclosure flaws.  
Common failings are roof to wall junctures, parapet systems, vestibules, and service penetrations. 
"Building Enclosure Tightness Testing" is often a requirement of the envelope commissioning process.  Organizations such USACE, NASA, NAVFAC, AFCEC, and municipal construction projects will regularly require air barrier and tightness testing as part of the final construction verification and quality assurance process.  These tests are completed to the various standards available and required by the International Energy Conservation Code (IECC) section C402.5.  The IECC now requires buildings not to exceed 0.40CFM/ft of envelope at 75 Pascals.
Accurate-Airtight Exteriors: Your Trusted Source for Commercial Blower Door Tests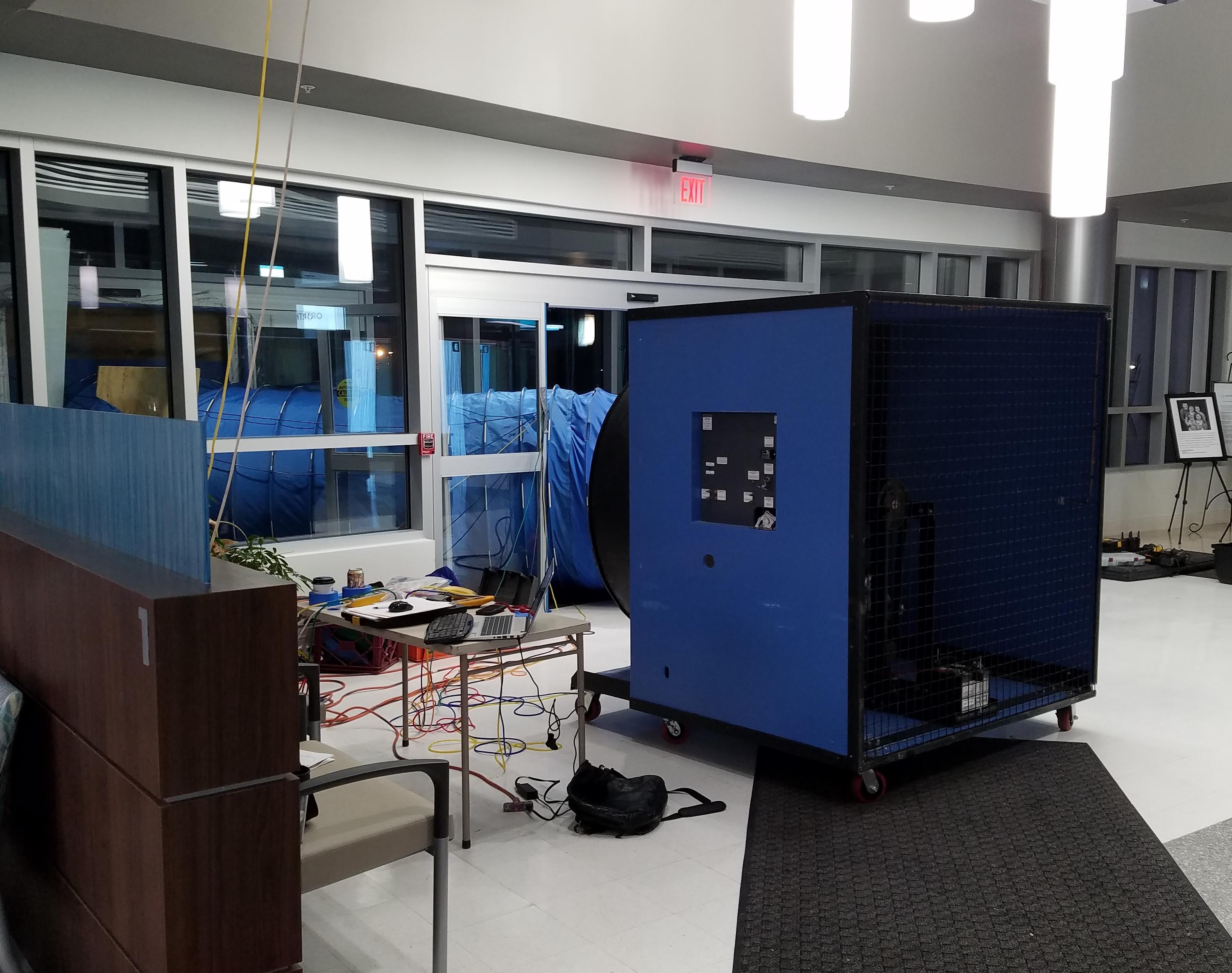 Accurate-Airtight Exteriors air barrier testing services adhere to strict guidelines for testing commercial buildings; including testing to meet the 2015 IECC (International Energy Conservation Code) using ASTM and ISO standards.  Through the use of our team of blower doors and infrared cameras we are able to offer you the highest level of service provided by well trained and experienced professionals.  With Building Envelope Commissioning Providers on staff ready to serve you. 
Accurate-Airtight Exteriors has completed air barrier tests to ASTM E779, ASTM E1827, ASTM E1186, ASTM E3158, ASTM E783, ISO 6781, ABAA, as well as many others. ASTM E779 or the standard test method for determining air leakage rate by fan pressurization is one of the most common tests. We also comply with ASTM E1827, the standard test methods for determining airtightness of buildings using an orifice blower door, we see used more often for smaller buildings. 
For military facilities, we follow the U.S. Army Corps of Engineers (USACE) air leakage test protocol for testing the effectiveness of the building air barrier. Quality assurance builds the quality into the project at the front end of the project. This ensures a comprehensive approach that by design is suited to control errors.  This prevents errors before they are more costly to fix. Quality control builds quality in at the back end of the project, but may not be as effective at ensuring a well built building.
Regardless of your needs, you can feel confident that ACCURATE-AIRTIGHT EXTERIORS is the blower door company near you that will ensure your building meets, if not exceeds, various required standards to help you get the largest savings, health and comfort benefits possible for your commercial property.  It is our objective to ensure that you meet your goals!