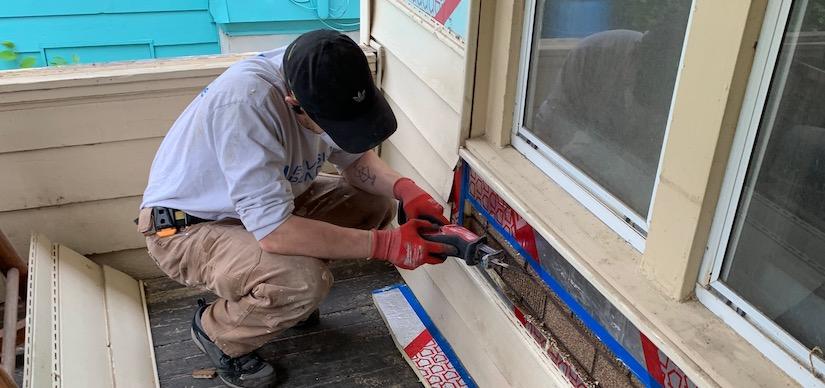 At Accurate-Airtight Exteriors, we deliver energy savings for the life of your building.  We approach each project with the determination to earn your business and do the job right.  By following the latest and best industry practices we are able to provide you superior solutions.
We know that making improvements to your building is a long-term investment.  Energy costs are typically among the top three expenses for any building.  Accurate-Airtight Exteriors will assist you in lowering the ongoing operating costs of your building by reducing energy usage and by providing a more comfortable environment for your employees.
WHY CONSIDER ACCURATE-AIRTIGHT EXTERIORS AS YOUR ENERGY SAVINGS CONTRACTOR?
If we air seal YOUR building, we guarantee a full payback in 60 months or less, or we refund the difference. With a guaranteed 5 year return on investment, you simply cannot lose. With reported energy increases every year, the incentive is clear. Call today for more information on commercial & industrial air sealing.
WHO SHOULD BE INTERESTED IN AIR BARRIER REPAIR?
Everyone who is paying energy bills should be acquainted with what their air barrier does and why it is important. It does not matter the type of building or the year it was built. Without air infiltration standards and quality assurance in the building process, then there is likely leakage that is wasting energy.
Even if you are not paying for OUR services, you are paying for the energy lost through the hidden gaps, cracks and holes that let the energy leak away.  The energy used to condition the building interior is contained largely in the air.  Without a proper air barrier, that energy can move easily between conditioned and unconditioned spaces.  This movement can be between interior or exterior spaces and it will take the expense and use of the energy away from where it will be most useful.
IS ENERGY THE ONLY REASON TO NEED AN AIR BARRIER?
Other than energy loss, a faulty air barrier can have a significant affect on the building and occupants.  Some of issues that can be caused are:
Mold or other humidity-related damage to the building
Discomfort of the occupants from drafts, cold floors, or humidity
Contamination from the outside or from industrial spaces into office or clean-room environments
Ice damming or other roof related damage
WHAT DOES AN AIR BARRIER REPAIR LOOK LIKE?
In order to control air infiltration in buildings, an air barrier system needs to be defined and detailed. At Accurate-Airtight Exteriors, we target the air leaks in your building enclosure system and seal them with a variety of industry approved materials that prevent the free flow of air and energy from moving in and out of a building.
Each job starts with a base-line test of your building's air barrier. Using industry standard tests, we pressurize and/or depressurize your building to quantify the amount of air and energy being lost.  We then repair the air barrier to reduce the amount of air infiltration. Depending on the specific needs of your building, we use various building materials to improve your air barrier. Finally, we complete the project with another air barrier test to validate the change.  Watch the Video here.
FAQs
Why should I air seal my building?
It is good for you, your building and the environment. You will reduce your energy consumption and lower your energy bills. Your building will be more comfortable and durable, with a reduction in both drafts and cold rooms, all while increasing the value of your building. You will also be putting less carbon dioxide into the air from the energy you need to heat or cool your building, reducing your carbon footprint.
What is air sealing?
Air sealing is the work of filling hidden gaps, cracks and holes in the air barrier between the interior and exterior of your building.
Should I insulate my building before air sealing it?
Insulation is only a heat or cold barrier - it doesn't block the flow of air. You spend a lot of money to heat and cool your building, but holes in the air barrier let this treated air escape, no matter how much insulation you have. Air sealing will increase the integrity of the air barrier in your building, keeping more of your heated or air-conditioned air where you want it, all for less than the cost of insulating.
How does air sealing save me money?
You cut your expenses by controlling air leakage and unintended air loss. When we repair the hidden gaps, cracks and holes in your building's air barrier, we prevent the conditioned air that you have spent money on cooling or heating, from leaving. We repair your air leaks for a more airtight and energy efficient building. Along with minimizing leakage, the air pressure within the building will also be controlled and your HVAC system will perform more efficiently. The occupants of your building will be happier and more comfortable as they enjoy good indoor air quality. The air barrier system will also control concentrated condensation which can lead to mold, corrosion and rot. Air barriers improve and promote durability and sustainability.
How much does it cost to get my building air sealed?
That depends a good deal on your building. Our cost schedule is based on either the size of your building or the decrease in the cubic feet per minute of air infiltration we are able to reduce from our services, whichever is less. We always quote the cost based on the size. Then we see the conditions we have to work with and do our best. The cost defined by the building size is based on a variety of conditions, including the square footage of conditioned space, the building footprint, and the height of the building. Please call us to discuss your building and we will provide you a free estimate.
Testimonials
I wanted to thank you for the air testing and thermography testing you recently completed for us at the US Armed Forces Reserve Center at the Letterkenny Army Depot in Chambersburg, PA. Both yourself and your onsite staff were very considerate of our needs working in and around a project that... Read more
Timothy R. Phipps, Senior Project Manager, Lobar, Inc.