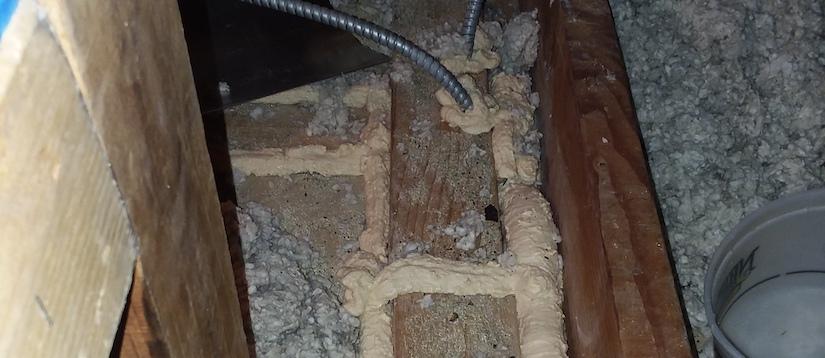 Interested in our services for your home or apartment building?
Our team has experience working for multiple decades on all styles of residential buildings.  We can make your home or multifamily building more comfortable and energy efficient today.
Why air seal now?
It is possible to add insulation and not receive any energy savings because air can bypass right through the insulation. The air is still moving in and out of your home, taking the energy with it. In fact, adding insulation without air sealing can be detrimental to building integrity.  Air sealing is the work of finding and filling many of the hidden cracks and gaps in your home.

What is a Home Performance Energy Assessment?
First, using a blower door, we test the air barrier of your home by measuring the air infiltration. Second, we will conduct a Combustion Safety Test to ensure you are safe from combustion gases produced by your furnace or water heater. Both tests are completed before any work starts and also after we complete our work on yoour home.  This is start and end to every project we complete.
What is a Combustion Safety Test?
This tests gas appliances to ensure they do not introduce exhaust gases and leak harmful and dangerous carbon monoxide into your home.  Many furnaces and water heaters do not draft properly. When they do not draft correctly they will introduce harmful combustion gases into your home.
What about insulation?
Insulation delays the time it takes for energy to leave your home. Your home is a six sided box.  All six sides of the box should be wrapped in a warm blanket of insulation.  Air sealing stops the air and energy from moving out of your house. Together air sealing and insulation stop heating and cooling from leaving your home.  Insulation should only come after thorough air sealing.
We Solve Common Problems

: 
High Energy Bills

Drafts

Mold/Mildew

Window Condensation

Ice Damming

Cold Floors

Poor Air Quality

Multiple Chemical Sensitivity
You can find out more information by calling our office at
We look forward to hearing from you and helping you save money on your heating and cooling.
Testimonials
Accurate-Airtight Exteriors more than exceeded our expectations with the air sealing and insulation project they completed for us.
Mount Pleasant Home, Dubuque, IA