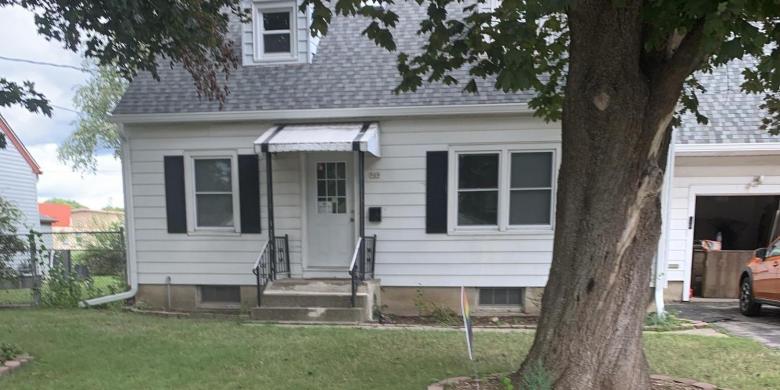 Examining the Home's Air Barrier 
When Accurate-Airtight Exteriors examines a building, we focus on its air barrier and ask questions like: 
Where are the hidden drafty areas in the structure? 

What building flaws are there to be found concealed above drop ceilings and in attics and crawlspaces?
The repair of unintended cracks, gaps, and holes is one of the most cost-effective ways to increase comfort and upgrade the energy performance of buildings of any type and age. The Accurate-Airtight Exteriors crew excels at air sealing and properly insulating both residential and commercial buildings.

Evaluating the Home's Insulation & Air Sealing: What Needs to Be Fixed? 
When the homeowner in Madison, WI wanted to remodel the upstairs of their Cape Cod style home, they called Accurate-Airtight for an estimate to properly air seal and insulate to improve the comfort of the home. After the estimate was completed, a list of recommendations was given to the homeowner. After coming to an agreement to further air seal and insulate the home, the project was split into two phases of work.

Phase One: Basement Insulation & Weatherstripping
During the first phase in December of 2020, the basement sill box cavities were insulated with two part spray foam to reach nominal R28 values of insulation. Four inches of two part spray foam insulation were installed to air seal and insulate those unfinished area basement sill box cavities. The attic door was also weatherstripped to further air seal. This was a starting step to increase the efficiency of the home and to reduce intrusion of outside air. 
Phase Two: Attic Insulation & Air Sealing 
Later in September of 2021, the rest of the recommended work was completed. The small peak attic was accessed to air seal and add attic insulation. The side knee wall attics were air sealed by dense packing the band joists and the flooring to cut off air from entering the home, and then the knee walls and floor were further insulated. The enclosed sloped ceilings and the gable end walls had two part, closed cell spray foam insulation installed to air seal and insulate. After all of this attic work was completed, the home was much more energy efficient, comfortable, and ready for the homeowner's future plans for this space. The goal for phase two was to drastically air seal and insulate the attic spaces to reduce energy use, increase comfort, and make the home more efficient. 
After all was said and done, the home was tested and found to be 64% tighter—a massive improvement!
Our Recommendations for Future Energy Efficiency Upgrades 
Accurate-Airtight Exteriors gave recommendations to the homeowner to further seal the home, reduce drafts, and increase comfort. Recommendations such as exterior door weatherstripping and door sweeps, as well as outlet seals, were suggested. 
Improve Your Property's Energy Efficiency with Accurate-Airtight Exteriors 
Accurate-Airtight Exteriors specializes in building diagnostics, energy audits, air sealing, and insulation. We are recognized for our expertise in blower door testing, especially testing large commercial and multi-family structures. "Our company has traveled all over the U.S. doing building envelope testing. We have tested a lot of Army Corps of Engineers buildings for example," said Accurate-Airtight President Torrance Kramer.
If you're interested in customized energy efficiency services for your Madison, Wisconsin property, reach out to Accurate-Airtight Exteriors today. We would be happy to answer any questions you may have and see how we can help you reach your comfort and energy efficiency goals with insulation, air sealing, and more! 
Improve your property's energy efficiency. Call Accurate-Airtight Exteriors at 866.582.4320 or

contact us online

today to learn more.
Ready To Improve Your Home's Energy Efficiency?
Contact The Experts At Accurate-Airtight Exteriors!