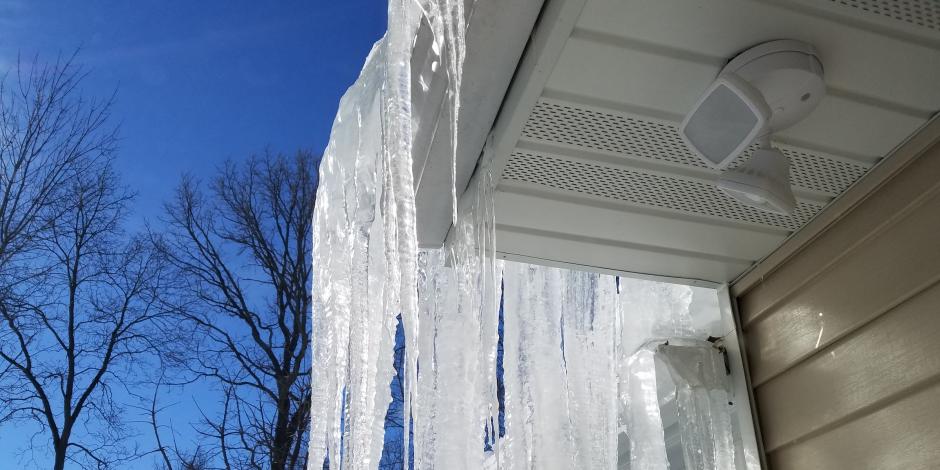 A common issue in residential, multi-family, and stick frame commercial construction buildings during the cold winter months in Wisconsin is what is commonly referred to as "ice damming." If you've noticed big icicles or humps of ice that have formed along the eaves of your Madison roofline, it's important to schedule ice dam removal quickly before you wind up with water damage inside your home.
Still, ice dam removal is a band-aid fix: It won't do anything to stop ice dams from returning. How do ice dams form, and what are the best methods for ice dam prevention?
What Causes Ice Dams to Form?
Ice dams occur when escaping heat from inside a building begins to melt the snow on the roof, sending water running down the sloped roof where it then freezes at the colder eaves. Large icicles and mounds of ice can begin to build up in gutters and eaves. If enough ice forms, water will build up behind the ice "dam" and can eventually get behind the shingles and cause damage to the shingles, sheathing, and the building itself.
Although many people believe that ice dams form due to poor insulation levels or the roof itself, it is most often formed by a variety of issues. One of the main heat loss issues is a lack of a significant air barrier due to inconsistent air sealing.
As we know, heat moves from hot to cold, and because of a building science principle called the stack effect, hot inside air tends to escape a building via the attic spaces. When this happens, the attic space will heat up, causing the underside of the roof deck to become warm and melting the snow on the roof. 
To prevent ice dams, common penetrations such as top plates, dropped soffits, recessed lighting, wire penetrations, plumbing and chimney chases, and other unique design openings through the building envelope should be air sealed using low porosity materials such as spray foam or caulk sealants.
At Accurate-Airtight Exteriors, we go the extra mile to ensure the quality of our work: for example, some chimney chases and "B" vent-style exhaust for water heaters are considered heat sources, so foam should not be directly applied for sealing. In these instances, we create a minimum of a 3'' clearance before any foam application, and use heat-rated materials such as metal flashing and high-temperature caulk to seal these gaps and cracks for a long-lasting solution.
Heat loss from poor insulation can also be a contributor to ice dams. A very poorly insulated attic can have significant thermal heat loss beyond the air leakage loss from gaps or holes. An attic should be insulated to a minimum of R50 in Zone 6 and greater (the climate area of Wisconsin).
Blown-in cellulose insulation can be used as a quality insulation material. Cellulose insulation—largely made from recycled newspaper—is treated with borate, a natural mineral, to give it some unique and very important benefits. Borate-treated cellulose insulation inhibits mold growth, deters pests from living in it due to its smell and taste, and is also fire-resistant for safety.
Get Help with Ice Dams and Attic Energy Waste from the Local Building Science Professionals
Ice dams aren't the only problem that can happen in your attic this winter—even if your attic isn't warm from escaping indoor heat, attic ventilation problems can lead to warm, moist air entering a cold attic and getting trapped, allowing mold growth or icicles can form.
At Accurate-Airtight Exteriors, we have over 75 years of collected experience helping local home and business owners improve energy efficiency, lower monthly heating and cooling costs, and avoid problems including ice dams. With our team of local residential and commercial building science professionals, you can trust that we'll get to the bottom of the issue you're experiencing and fix the problem the right way for a long-term solution!
Say goodbye to ice dams on your home or business. Call 866.582.4320 or

contact us online today

for a free consultation.
Stop worrying about water damage from ice dams.
Schedule insulation and air sealing upgrades from Accurate-Airtight Exterior.